Over the last decade, the natural rubber industry has come under increasing pressure to be environmentally responsible since the 2015 Paris Agreement, which was again underscored after COP 26. The pressure is mounting on all sides, be it the consumers or the suppliers.
With the tire majors investing big in waste management and recycling of tires and growing legislative efforts globally on the producer's side as a critical path toward building sustainability, it is creating considerable opportunities and challenges.
Price transparency along with technological innovation and changing the producers' mindsets re the key elements that will drive development, but who takes the lead to change the longstanding practices, producers, or consumers?
The increase in car ownership often outstrips legislation to deal with waste tires, with billions of end-of-cycle tires stockpiled worldwide. The EU's pivotal move was to levy a tax on tires while Britain opened a free market for end of use tires. This was followed by the US amendment to the Environmental Conservation Law called the Waste Tire Management and Recycling Act in 2003.
Meanwhile, Rubber plantations expanded rapidly post the super-cycle of commodity prices in 2005. According to the International Rubber Study Group (IRSG), the growth has been most apparent in Thailand and Africa, expanding by about 24% in the total rubber area during 2008-18. This had impacts on the ecosystem and livelihoods of local populations.
Fast forward to 2021, in pursuit of a circular economy, the rubber industry is bucking up to bring sustainability throughout its supply chain. The governments of the rubber-producing countries and the tire majors have made significant strides forward. However, greater importance has to be placed on the development of the rubber-producing countries, primarily by ramping up the infrastructure and investments.
Producers need rethinking of processes
Post the price boom in the 2000's, rubber plantations saw an expansion of about 1 million ha between 2005 to 2011. However, once these new plantations entered production, a supply glut situation pushed the prices down.
The prices for natural rubber, which rose to around US$3,000/mt during the commodity super cycle, collapsed and currently hovering in the range of US$1790-US$1810/mt range on FOB basis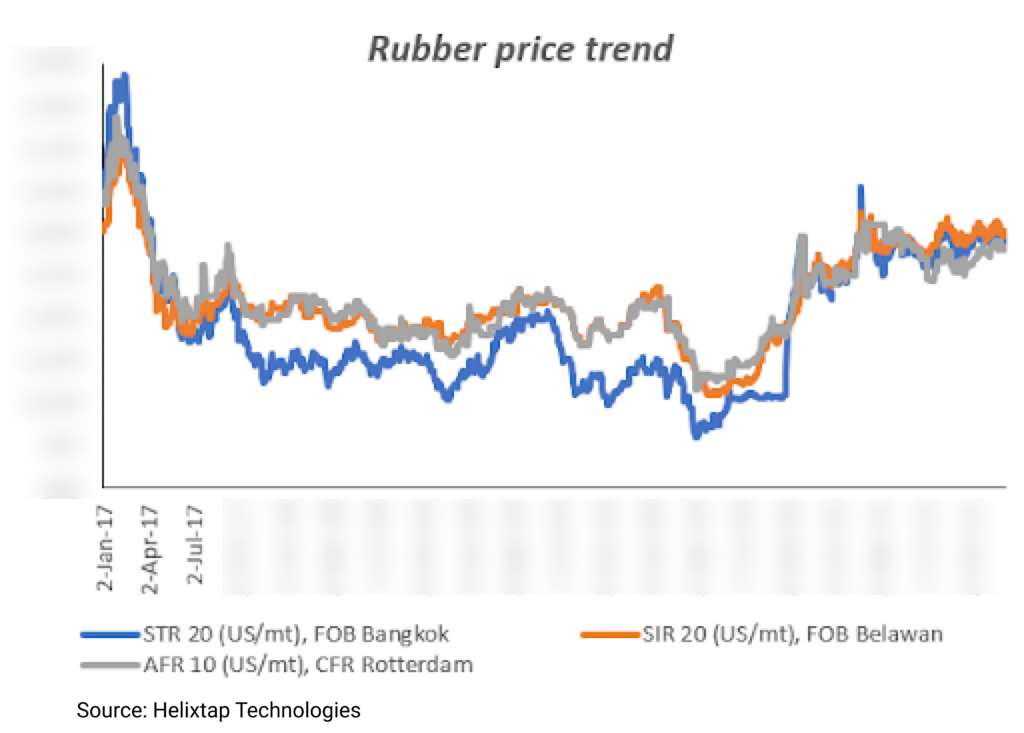 Such volatility in prices is concerning for long-term investments, especially when the essential cost is labour which does not fluctuate the same way. Moreover, given, natural rubber production is dominated by smallholders accounting for around 90% of the global production and rubber area, they are exposed to volatility. As a result, it becomes difficult for them to implement economic and production models sustainability.
The Association of Natural Rubber Producing Countries expects natural rubber consumption to see a year-on-year rise of 8.3% to 14 million tons in 2021. This is marginally higher than ANRPC's projection for 2021's production.
According to IRSG data, globally, rubber plantations expanded to 14.1 million ha in 2020, primarily within mainland Southeast Asia.