Negative margins in Indonesia, LTC reduction and prices breaking support levels. Is this the start of structural change?

When will the prices bottom out - market cues indicate a longer haul
The price pressure has proved to be anything but transient as the spot rubber prices slide back to the 2020 level. While all the rubber-producing nations are in the line of fire and struggling to find a bottom to the prices, it seems the Indonesian market is least insulated from the uncertainties. 
With rising recessionary pressure in Europe, while China tried to bolster its economy, the demand remains bearish and is likely to continue. However, to blame the current demand scenario wholly for the crisis in the rubber market would be unfair. The unprecedented events made it hard for some market participants to judge the market leading to some bullish long position bookings creating a glut in the market.
Increased inflow of African raw material leads to glut
In the world of rubber, things rarely move quickly. However, the impact of a series of setbacks on the rubber economy is proving exceedingly fast, especially for Indonesia. While the Indonesian producers were finding it challenging to maintain cash flow amid high raw material prices in the domestic market, there was a surge in the inflow of African raw materials into the region. 
The intention was to curtail the cost, which looked like an economical alternative but seemed to have backfired. Indonesia, as a result, is struggling with an oversupply of raw materials while the bearish demand continues to wither buying interest away. According to Helixtap data, Standard Indonesia Rubber (SIR) 20 around 17% since January 2022, while the raw material price dropped by 13%. 
While some attributed the glut to huge imports of raw materials from Africa, others believed lower production due to weak demand has led to the current downturn. "Now something changed in the market. Too many imports into Indonesia" said a producer source.
According to Indonesian customs data, of the total rubber imports, around 23% were sourced from the Ivory coast between January-March 2022, which has slowed since then. According to Industry sources, several Indonesian producers are trying to import, which was not the case in the past.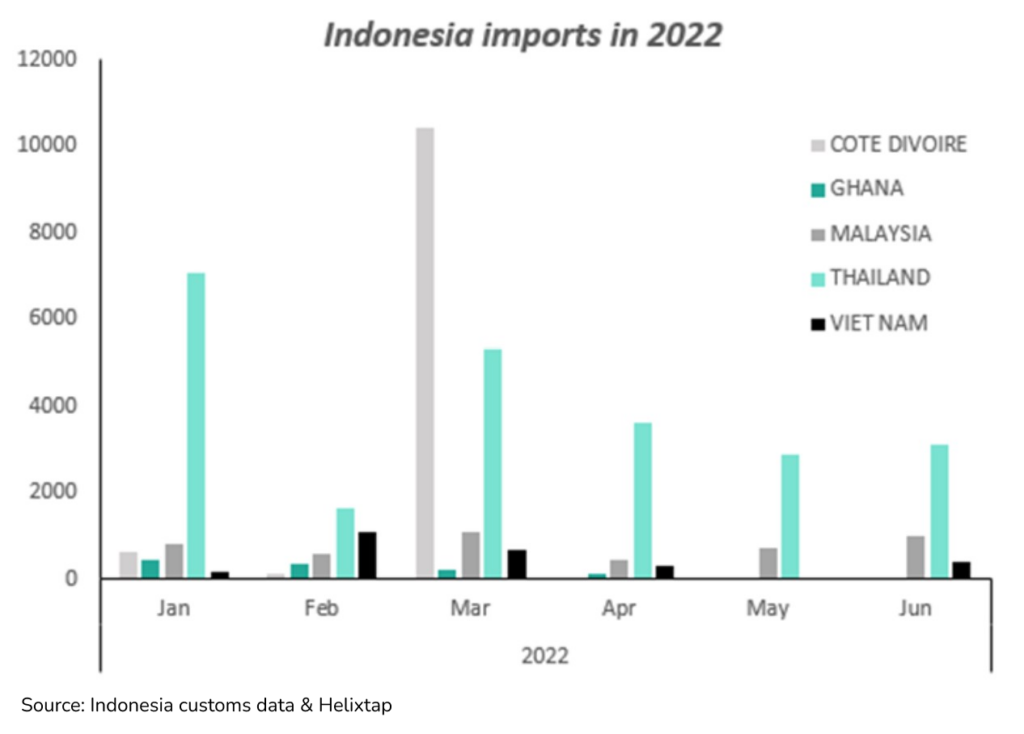 While there was the concern of being "blacklisted by consumers", some producers opted for the import way owing to the current slowdown in buying and the consistent margin pressure. "If all import, then how to blacklist or penalize," a market source added.