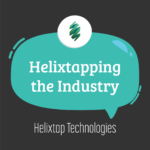 Farah –
Welcome to Helixtapping the industry, a series where we examine the forces driving the rubber markets today. I am Farah Miller, CEO and Co-Founder of Helixtap Technologies. 
As the markets were withering through the ripple effects of the Russia and Ukraine conflict, the fear about the economic toll of China's strict "Zero Covid" policy is ripping through the rubber market.  Almost a month into the lockdown and no signs of relief, the rubber market is witnessing a severe fallout in spot prices and demand. 
To discuss more on this, we have a special guest joining us today. Daniel Tan is based out of Singapore and is a [Rubber Trader], of Grand Resources Group Company, 
Established in July 1994, Grand Resources Group Limited has been consecutively ranked as one of the top 500 Chinese Enterprises since 2006. Starting from Ningbo China, they now trade multiple commodities and operate globally.
It's Friday 29th April 2022.  
Farah – Daniel, welcome to the podcast
Daniel – Thanks Farah, Glad to be on today.
Farah – Great, lets get right into it and talk about the elephant in the room – China's economy seems to be at its lowest at present since early 2020 when the pandemic hit, the deceleration in retail sales, output, and also higher factory gate prices. In your opinion, how is the rubber industry dealing with the situation?
Daniel – Right now, China's zero-covid policy has resulted in long lockdown in Shanghai and mass covid testing in many provinces. Logistic and productivity slowdown were evident. This had resulted in longer turn-around time for documents flow as well as cash flow. China Tireplants experienced a lower operating capacity during this lockdown period and we have heard feedback about slower demand buying from the Chinese Tireplants. As a result, producers who export significant volume to China are experiencing longer turnaround time in cash flow return and lower China demand buying.
Farah – Yes it seems that rubber seems to always have a downward price bias. The prices, especially Thai rubber, looking at Helixtap's physical STR index, has seen a drop of around 2% in just the first half of April. Seeing the way things are moving and the Chinese government's "Zero-Covid policy", the situation is unlikely to ease soon.  What would be the impact on the demand, given the supply chain is already disrupted? Do you see a supply glut situation going ahead
Daniel – Right now Chinese sentiments are definitely not bullish given the logistic disruption and cash flow disruption seen from China's current situation.
Farah – China has been under lockdown for more than a month now, what's next?
Daniel – The prospect of reopening of Shanghai and other locked down provinces could be seen in the next 2 weeks, the question on my mind right now is. Is the worst over for China and will demand improve subsequently?  Will productivity and logistic situations be improved? These are the factors that we are monitoring on China demand returning.
Farah – I see, On the international consumer's front, we are still seeing very high premium against the SIR20 trades as the futures market declines.  From what you are saying, this suggests that the demand in the overseas  International market is better than China currently. How about the producer side
Daniel – For the producer side, the profitability of each rubber grade will be a consideration for producers
Farah – I see, so the cash flow return management definitely would affect the production output.
Daniel – There are also market expectations on supply improving in the near future as some rubber producing countries such as Ivory Coast, Vietnam, Cambodia, and Thailand Northeast Region coming out of wintering.
If China demand experienced another lockdown with recovering supply, there is a chance of a supply glut situation happening, but let's see. 
Farah –  Yeah, I've heard such a wide range of traded prices this week it's hard to predict with confidence. On one hand you have reports of heavy rain in Thailand and Indonesia but prices tell another story. How do you see the trade flow getting impacted especially when certain products like STR 20 mixture, SVR 20, or other sources like African rubber or SMR mostly move into the Chinese market?
Daniel – We do have to understand that the mixture rubber grades are primarily designed for the Chinese market due to tax issues, yeah so I would like to think that producers producing China Grades Rubber would find it very challenging at this present moment in time, and they probably, perhaps, have to find a way to alter their production volume to Non China Grades. They would have to produce more Non China Grades Rubber that they can export to other buyers in the meantime to overcome this situation. 
Farah – I see, so you know, interesting. In your view, how challenging would this be for the producers and you mentioned cash flow earlier – what would you think would be the magnitude of impact on prices?
Daniel – China is consuming about 5.9 million tons of rubber in 2021 based on ANRPC data. If the China Zero Covid policy continues to disrupt the physical demand and actual delivery of physical cargoes and cashflow, the impact could be negative for the rubber price trend if this situation continues to drag on.  Producers who export a lot to China would find it very challenging, they definitely have to find a way to manage their production volume or diversion of trades from China to other region buyers.
Farah – Wow that sounds like a sticky situation to be in. And one more sticky situation, lastly, moving on to another difficulty faced by everyone: The supply chain. With queues of vessels building up at the port, diverted shipments, and disrupted inland transportation, the situation has put more pressure on already strained global supply chains. How is the rubber chain specifically dealing with the situation?
Daniel – At the moment, traders could only wait for their documents and cargoes to clear the Chinese custom due to the strict covid measures. We have experienced it ourselves, we've heard it from the Thai producers, we've heard it from the Malaysian producers. So a longer delay is expected until the measures are relaxed and we see improving Courier Services and Custom Clearance productivity. This is a situation that every rubber seller is facing in China. So right now, what sellers have to consider is the long-term delay in receiving cash flows back from China and determine if they are able to divert some sales or volumes elsewhere?
Farah – I see, so in this situation it's sort of very confusing, what I appreciate is your insights and your understanding of the chinese market Daniel. So once again I would like to thank you for joining Helixtapping the Industry.
Daniel – Thanks Farah!
Farah – If you enjoyed today's episode, let us know at  marketing@helixtap.com!
For more updates on the Rubber industry please check out our website www.helixtap.com and you can also follow us on socials under the handle Helixtap.
Thanks for tuning into "Helixtapping the Industry". Until next time!